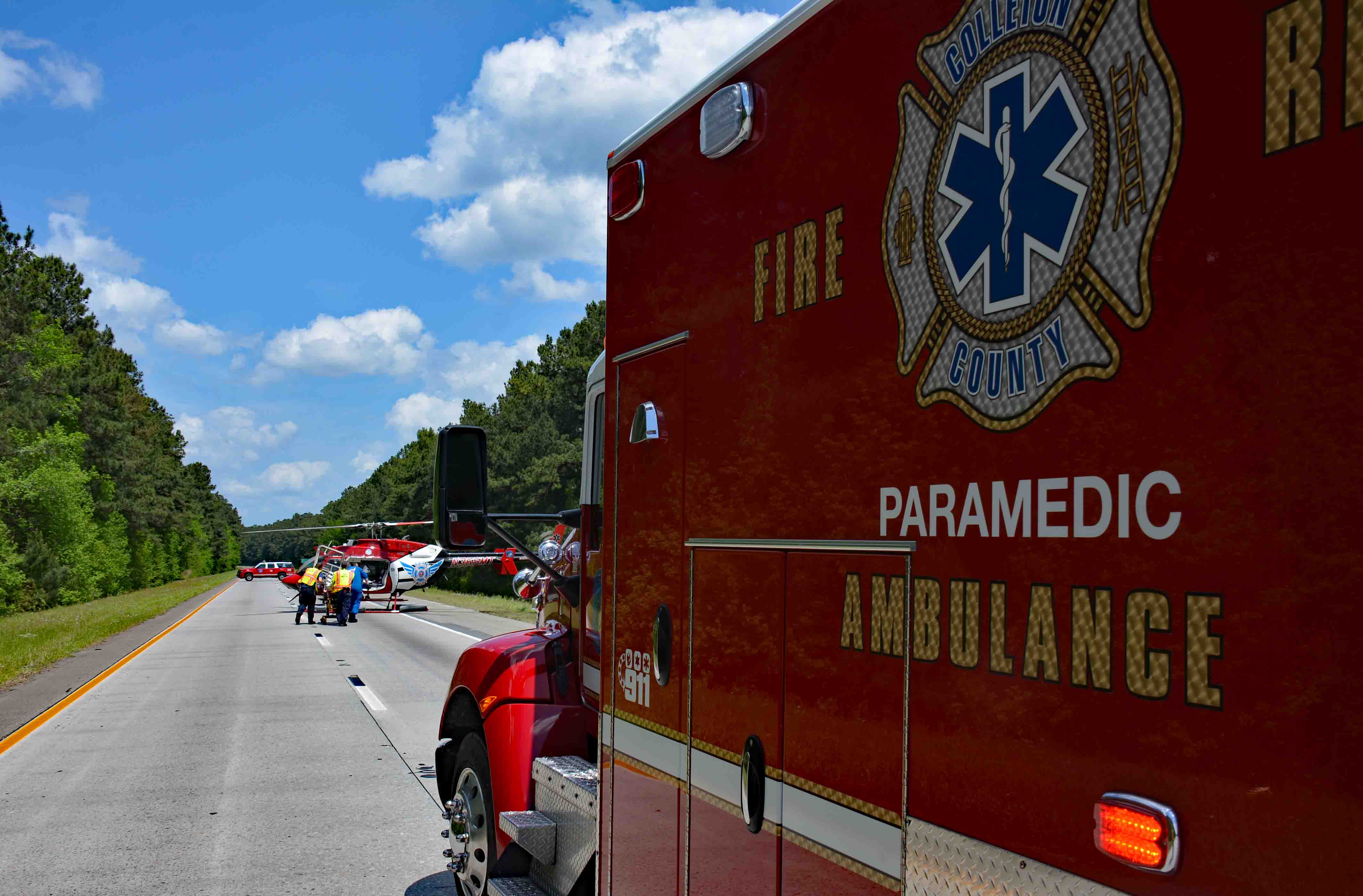 14/April/2018 – MVC with Air Evac – "C" Shift
Incident # 18-02644 – An adult male from New York was critically injured in a single car MVC near the 62 mile marker northbound on Interstate 95 Saturday afternoon 14-April. At 12:38 Fire-Rescue was notified of the accident when a Dodge Dakota pickup truck left the highway at a high rate of speed just north of the McLeod Road interchange. The vehicle over corrected and left the roadway a second time, entered the median, then struck several trees. The impact caused heavy damage to the small pickup truck and ejected the male passenger. Firefighter-Paramedics found the man faced down in the wooded area with multiple traumatic injuries. The female driver suffered minor non-life threatening injuries. Neither occupant was wearing a seatbelt. A medical helicopter was requested and C.A.R.E. Flight responded to the scene, landing on I-95 north of the accident site. Heavy weekend traffic in the northbound lanes was already down to one lane and eventually backed up nine miles. The male patient was treated at the scene, then flown to the Trauma Center at Trident Medical Center in North Charleston. The female patient was transported by Fire-Rescue Medic 1 to Colleton Medical Center. The SC Highway Patrol is investigating the crash. Fire units were on the scene for two hours until the accident was cleared.
Engine 26, Medic 1, Medic 26, Rescue 1, Battalion 1, Car 105, Car 111, Car 112, Car 118 and C.A.R.E. Flight responded. Deputy Chief David Greene served as Incident Commander.