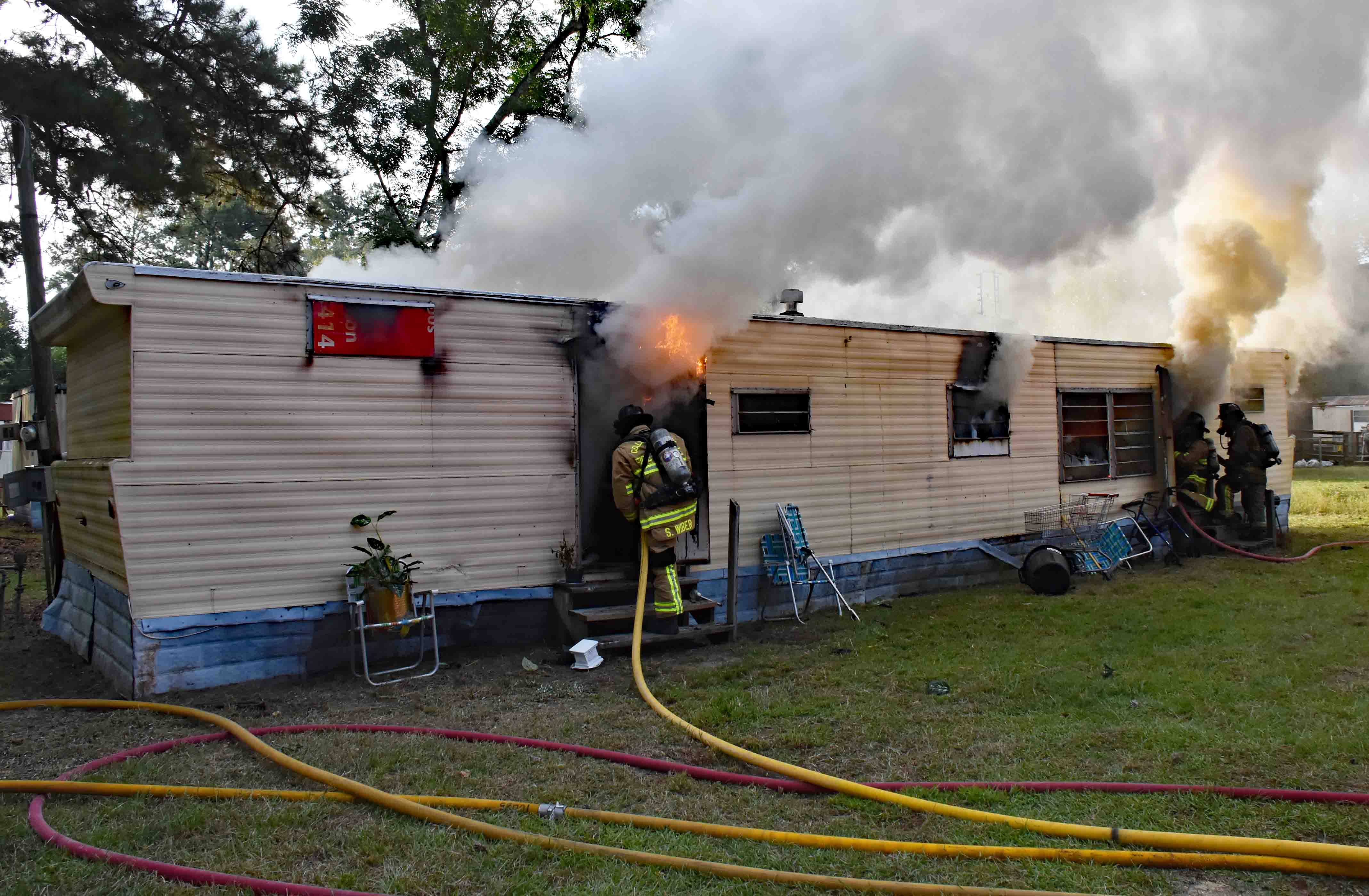 07/September/2020 – Fatal Structure Fire – "C" and "A" Shift
Incident # 20-06131 – Two adult females and two canines died in a residential structure fire Monday morning 07-September in the 200 block of Edgewood Street east of Walterboro. Fire-Rescue was dispatched to the location at 07:58 on the report of smoke coming from the residence. Engine 19 arrived to find heavy smoke conditions in the older singlewide mobile home. Neighbors advised arriving units that two occupants should be in the home. Fighters forced entry through a front door and quickly located one woman near the door. She was pulled from the structure then moved to Fire-Rescue Medic 19. Tragically, she had no signs of life. The interior of the home flashed over shortly after the first woman was removed, producing heavy fire conditions as flames exited through several windows. It took Firefighters about 10 minutes to bring the fire under control. Crews searched the home for the second occupant and found her in the rear bedroom during overhaul operations. The two canines were also found about the same time. The Coroner's Office responded to the scene. It appears the origin of the fire was electrical in nature and started in the wall at the restroom near the back bedroom. The home had no working smoke alarms and the interior suffered substantial damage. Firefighters buried the canines in the yard at the request of family members. The Sheriff's Office is investigating the incident and the State Fire Marshal's Office also responded. Fire and Sheriff's Office units were on the scene for 3-1/3 hours.
Engine 1, Engine 19, Tender 1, Tender 19, Tender 26, Tender 27, Medic 1, Medic 9, Medic 19, Medic 26, Rescue 1, Battalion 1, Car 104, Car 105, Car 112 and Car 118 responded. Battalion Chief Scott O'Quinn served as Incident Commander.