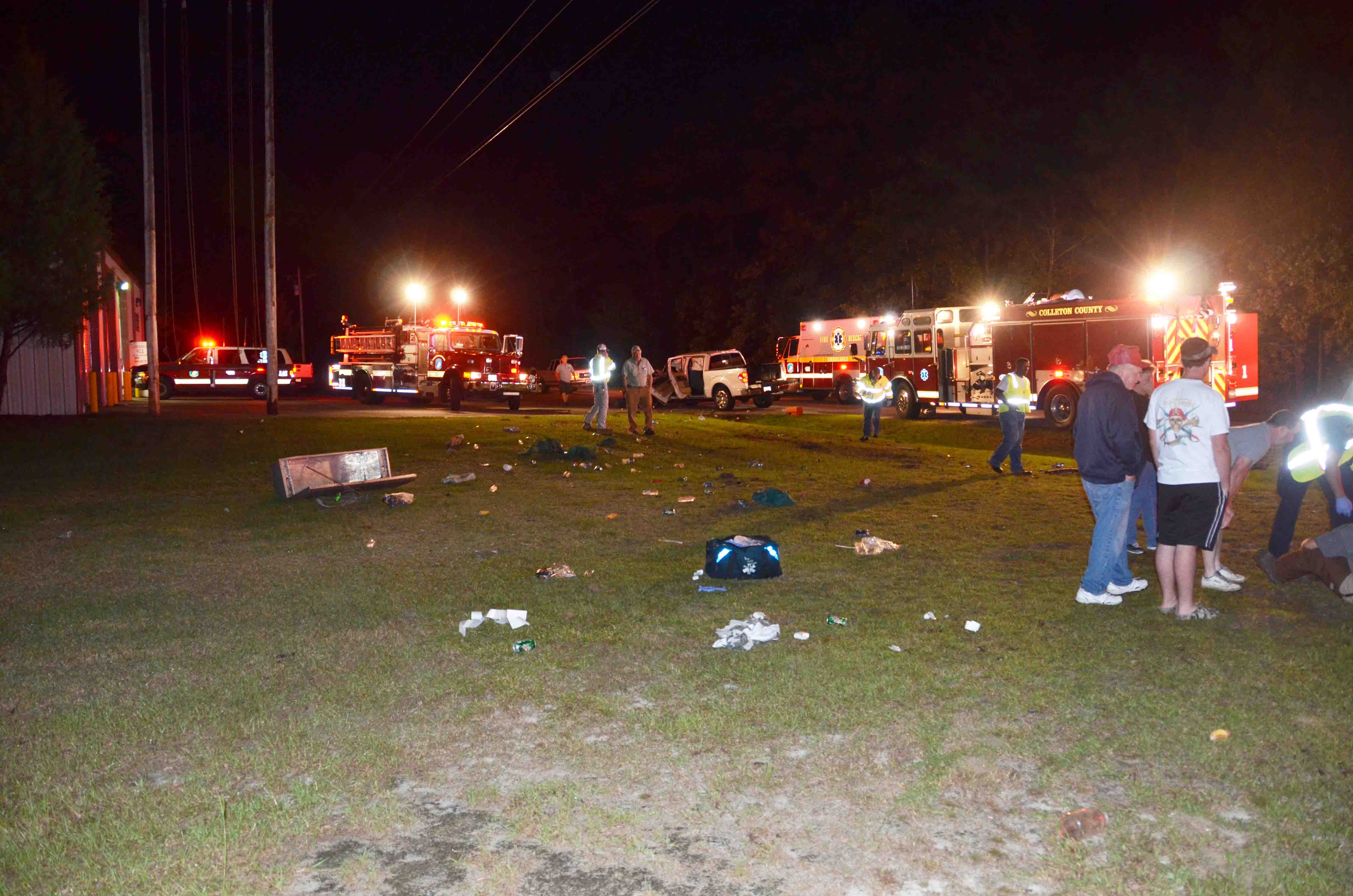 08/October/2012 – MVC with ejection – "B" Shift
Incident # 12-05507 – A two vehicle MVC injured five people, two critically, Monday evening 08-October at 20:21. An east bound Chevrolet Pickup Truck left the roadway, struck a driveway culvert in front of Fire Station # 8 at 3551 Black Creek Road and became airborne. The truck struck a glancing blow to a parked Ford pickup that was stopped in the driveway and the 63 year old driver who was standing next to his truck. The man was crushed between the two vehicles, before being thrown approximately ten feet into the air, landing in the bed of the truck. The Chevrolet pickup continued across the fire station driveway before hitting the ground in the front yard, overturning approximately three times, scattering debris throughout the yard. The truck came to rest on its roof, ejecting the 16 year old driver. Three other teenagers were also in the truck, but were able to crawl from the vehicle. Initial calls to 9-1-1 indicated multiple injuries, so an additional ambulance was assigned to the incident. Station 8 personnel were on the scene within minutes, confirming two critical patients and three other injured people.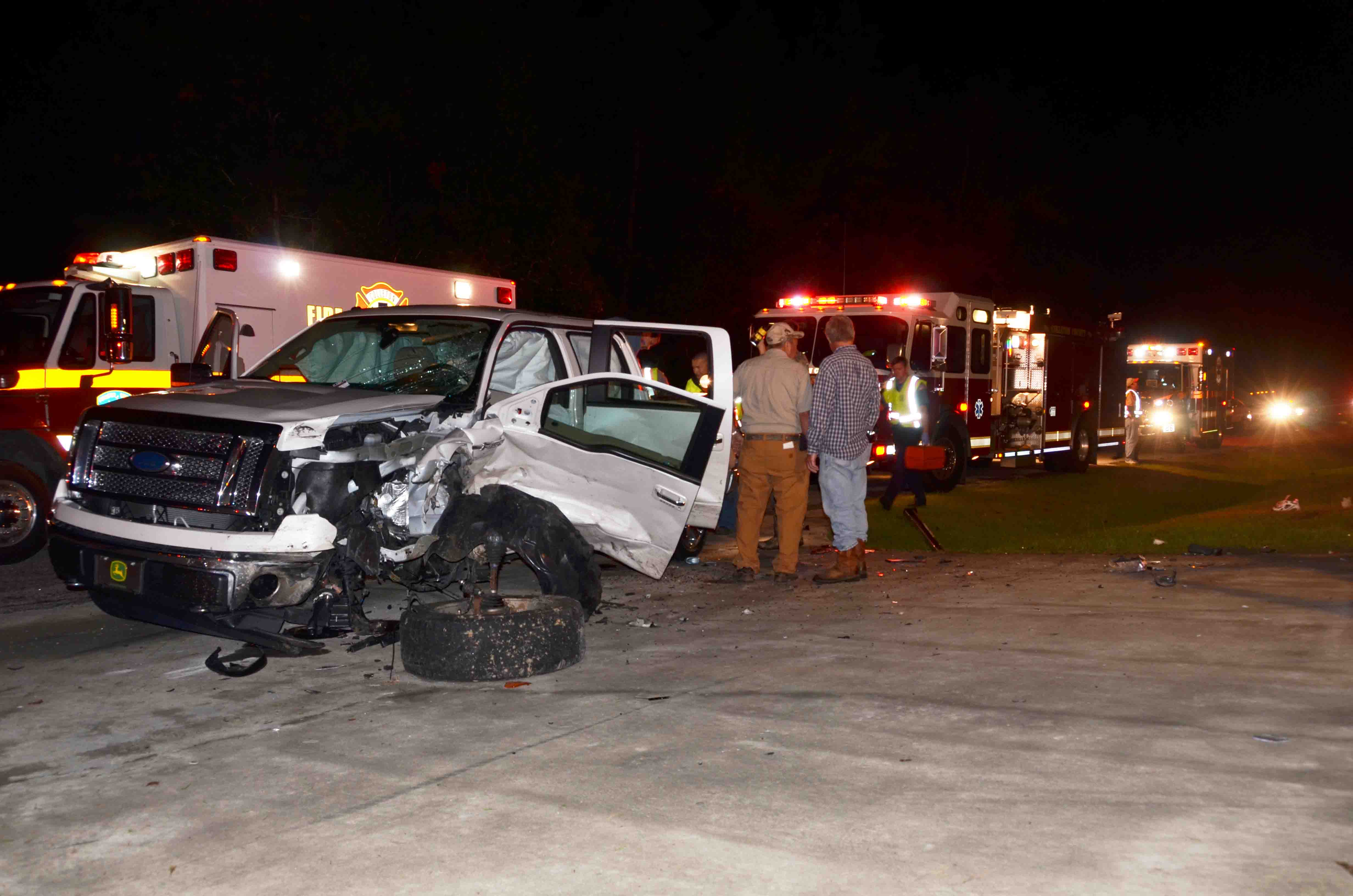 Two additional ambulances and one additional Engine were assigned to the incident. Medic 26 was the first to arrive and was directed to the 17 year old, who had been unconscious and suffered multiple traumatic injuries, as well as a head injury. Medic 1 arrived a short time later, being directed to the man in the pickup truck. Firefighters had controlled his profuse bleeding from his severely injured legs and pelvis. He suffered multiple fractures and a near amputation of one leg. Two medical helicopters were requested, but none were available to fly due to poor weather. Medic 26 treated the 16 year old driver at the scene, which included immobilization, multiple IVs and pain medications. He was transported directly from the scene to the Trauma Center at MUSC in Charleston one hour away. The 63 year old man was treated by Medic 1, which included immobilization, splinting, bleeding control, multiple IVs and pain medications. He was rapidly transported to Colleton Medical Center to be stabilized. After a short period, Medic 1 transferred him from Colleton Medical Center to the Trauma Center at MUSC. The LifeNet 4 Flight Crew, who is based at Colleton Medical Center, assisted with the patient care during the transport.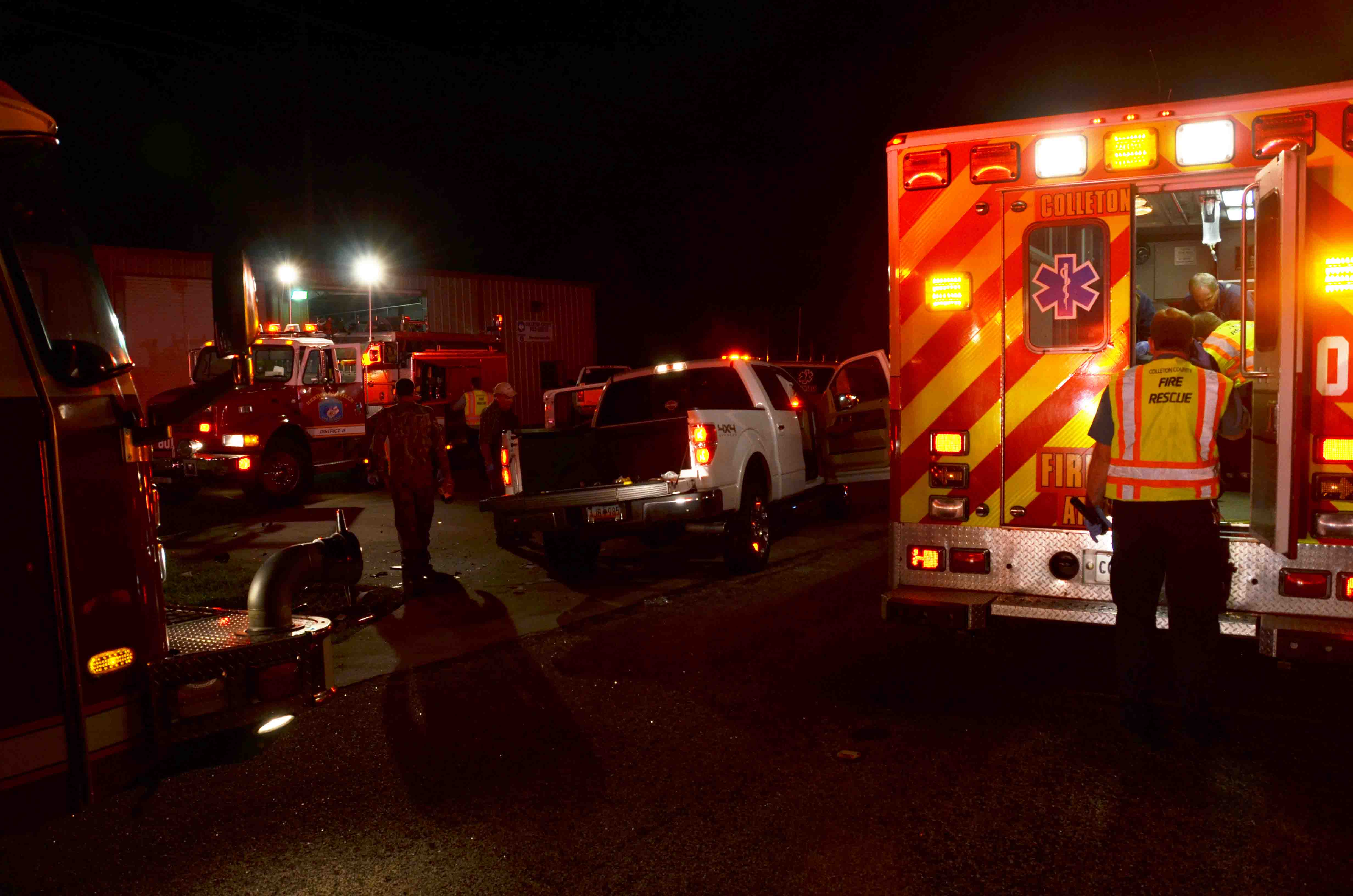 Medic 19 transported the remaining three teenagers, all who suffered non-life threatening traumatic injuries, to Colleton Medical Center. Traffic on Black Creek Road was rerouted for two hours while crews worked at the scene. The SC Highway Patrol continues to investigate the accident.
Engine 1, Engine 8, Medic 1, Medic 6, Medic 19, Medic 26, Battalion 1, Car 12, Car 111 and Car 118 responded. Battalion Chief Scott Feather served as Incident Commander.