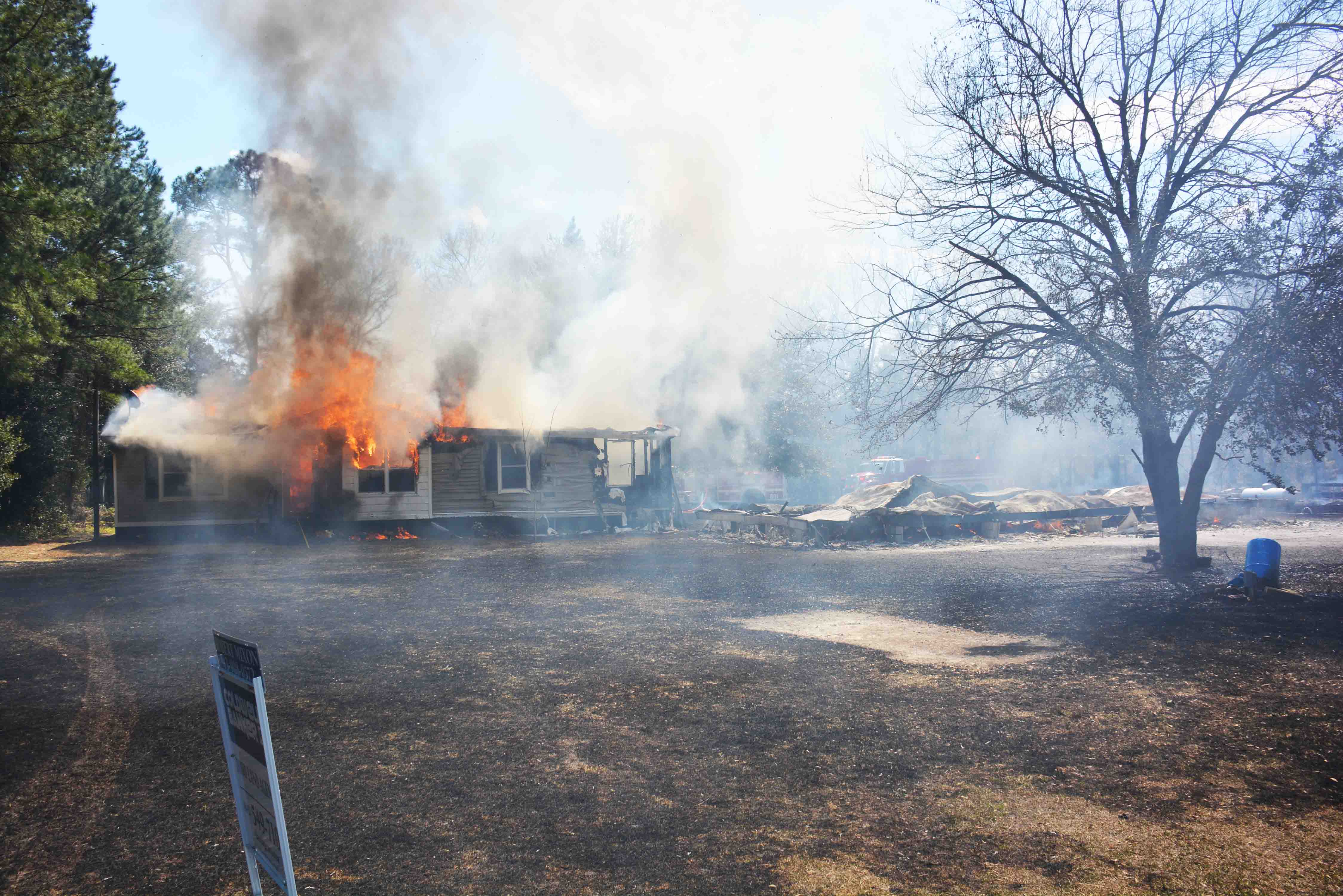 27/March/2014 – Multiple Structure Fires – Three Alarms - "C" Shift
Incident # 14-01925 – A yard debris fire quickly escalated into a three alarm response which destroyed three homes, a storage building and damaged a large wooden abandoned dwelling. Approximately 10 acres of woods and brush were also burned. At 13:42, 9-1-1 was notified by a caller who stated a yard debris fire had spread to two houses near 47 Harry Lane. The location is a dirt road located in a rural community in southern Colleton County off of Catterton Lane. Engine 13 arrived nine minutes later to find one single story structure fully involved. The roof had already collapsed. A doublewide mobile home was also fully involved and a second doublewide mobile home was approximately 50% involved. Light winds had driven the fire across a broom straw field and into several wooded areas north and west of the structure fires. The fast moving grass/woods fire was threatening several other homes in the area. Engine 13 and the crew from Medic 13 deployed handlines to protect a mobile home near the third structure and two large LP tanks in the yard. Tender 13 was directed to Rufus Lane to the head of the woods fire to protect homes on Rufus Lane. A second alarm and Forestry were requested. Engine 13 set up a ground monitor and directed the stream on the third structure, while crewmembers work to extinguish the fires.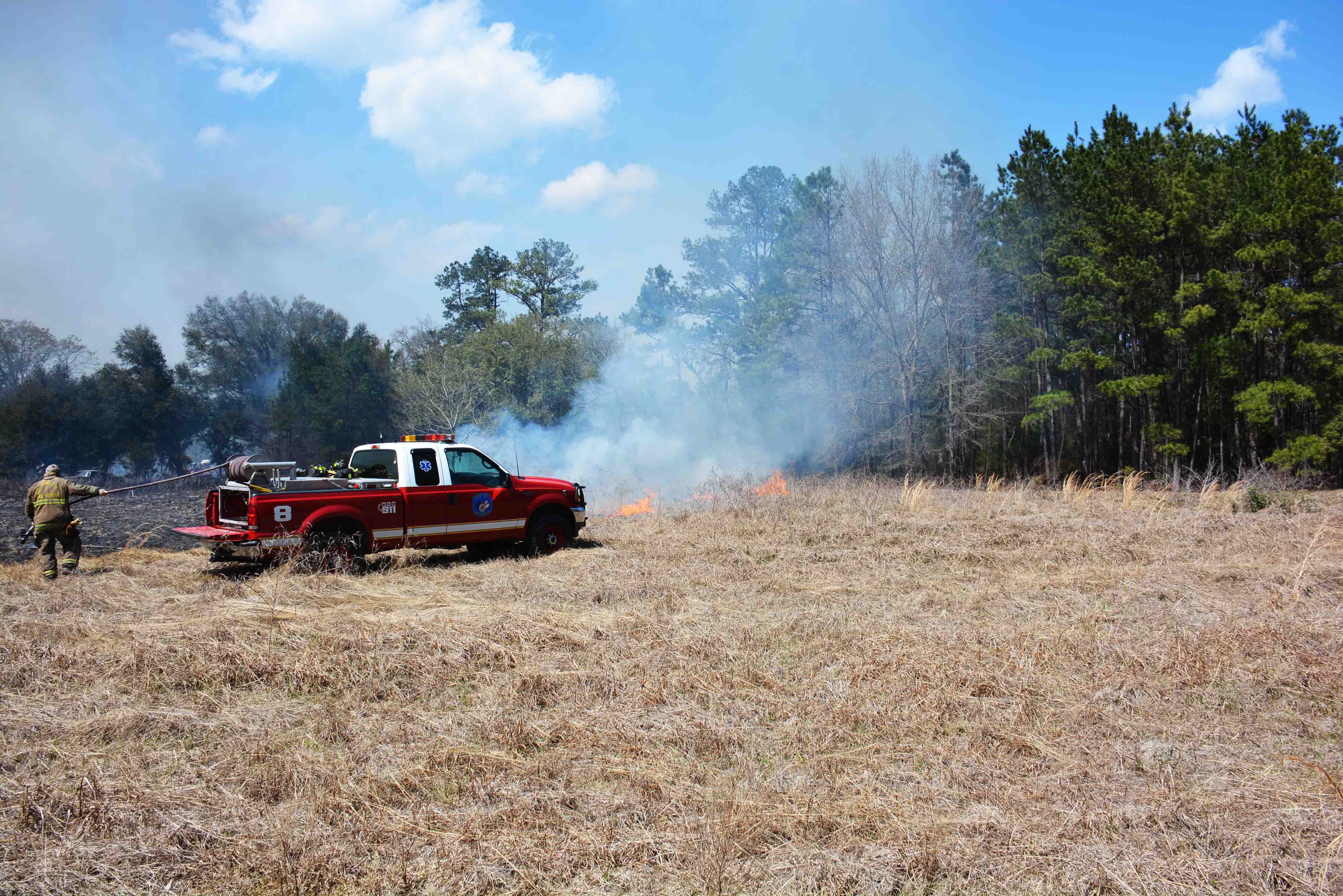 When Battalion 1 arrived, he assumed Command of the incident and requested a third alarm along with several brush trucks. Multiple handlines and master stream devices were used to bring the fire under control. The Forestry Commission responded with three tractors and a Ranger. Two homes were completely destroyed by the fire. The third structure, a doublewide mobile home suffered heavy damage, but several rooms were salvaged. A fourth wooden structure, that was vacant received minor damage. Firefighters kept the flames from reaching six other homes near the location. No injuries were reported.
The fire originated in a yard debris pile behind 47 Harry Lane. The home owner had been burning debris from the recent ice storm. Light winds spread the fire into a nearby hedgerow, then through the yard to a one story wooden home. The flames quickly consumed the wooden building. The fire then moved to a nearby doublewide mobile home, then to the third doublewide mobile home. The yard fire rapidly spread into a nearby broom straw field with the winds droving the fire in several directions endangering other buildings in the neighborhood. Firefighters and Forestry personnel were on the scene for over 4-1/2 hours. Water supply was handled by multiple tenders.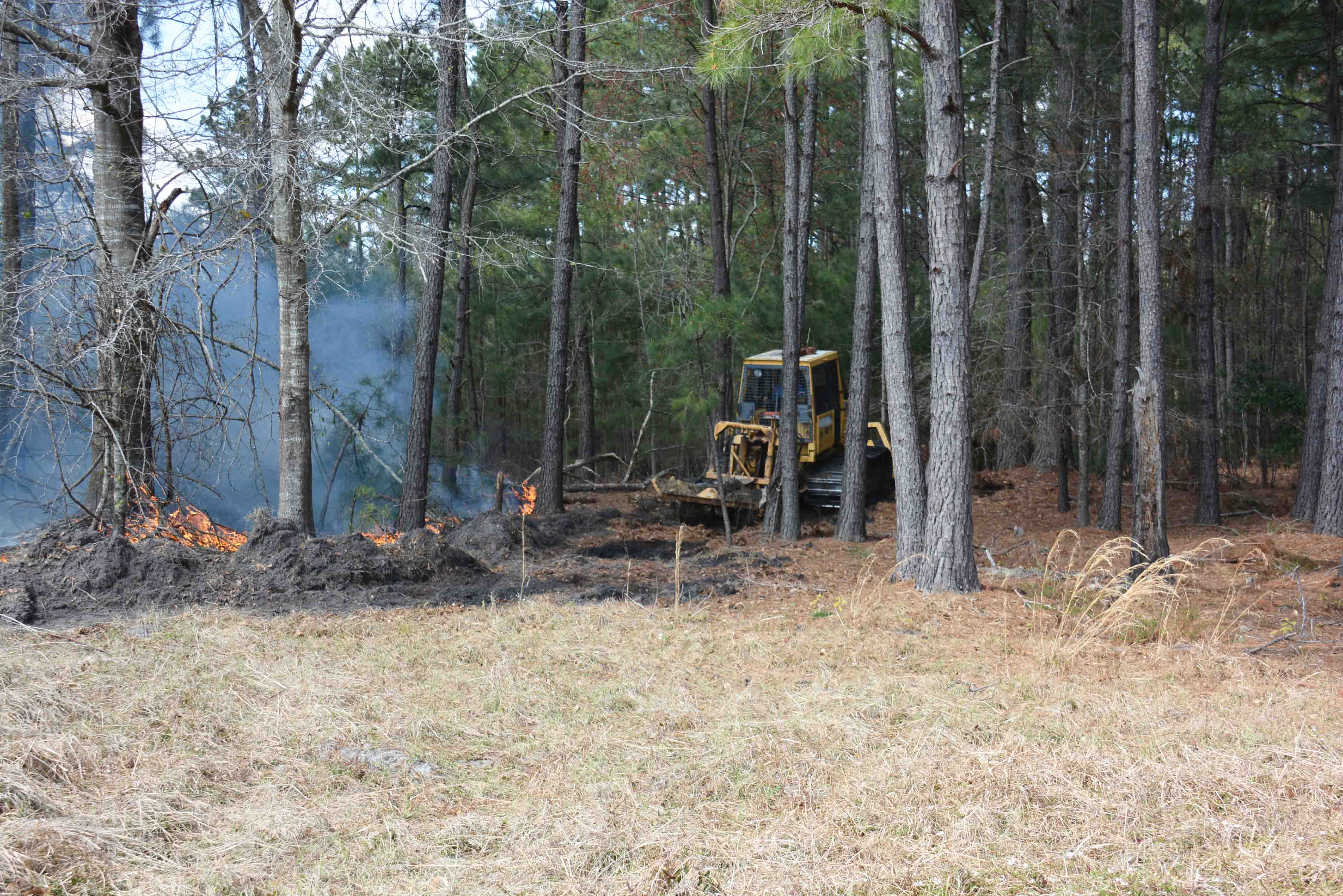 Engine 3, Engine 8, Engine 13, Engine 27, Tender 1, Tender 4, Tender 8, Tender 13, Tender 15, Tender 18, Tender 19, Tender 22, Tender 25, Tender 27, Tender 29, Brush 2, Brush 8, Brush 15, Brush 24, Medic 6, Medic 13, Medic 18, Battalion 1, Car 12, Car 107, Car 111, Car 118, three Forestry tractors and a Ranger responded. Battalion Chief Ben Heape, Battalion Chief Scott Feather and Second Lt. Janet Laney operated the Command Post.
Multiple units were relocated for several hours during the incident.
Photos by Harold Buzzell