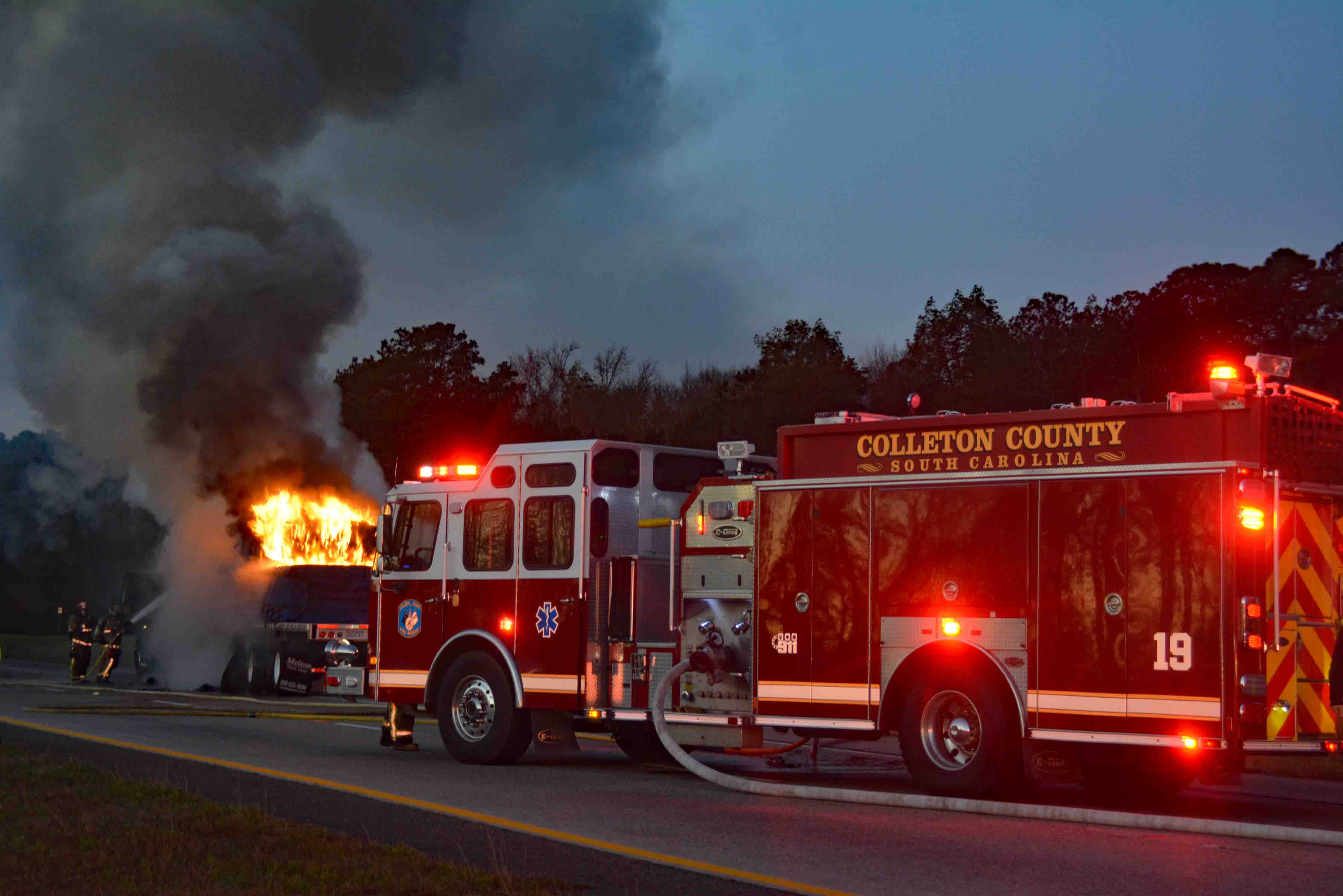 09/February/2020 – Tractor Trailer Fire – "B" Shift
Incident # 20-00914 – At 06:41, Sunday morning 09-February, a southbound tractor trailer suffered a blowout on a right rear tire on the Kenworth truck. The driver advised he saw flames before he could stop in the breakdown lane. Once stopped, he attempted to extinguish the fire with an extinguisher without success. The flames quickly spread to the loaded trailer igniting the cargo of rolled roof felt. He called 9-1-1 for assistance. Engine 19 arrived about 8 minutes later to find the back of the Kenworth and the loaded trailer well involved. The trailer was partially in the travel lane, but due to the amount of fire, Firefighter-Paramedics blocked off both southbound lanes. Sheriff's Deputies detoured traffic through the Rest Area to keep the traffic moving. Crews deployed two 1-3/4 handlines and requested three additional Tenders for water supply. Firefighters had the bulk of the fire knocked down within 20 minutes, but the large load of rolled roof felt was difficult to extinguish. Crews unloaded half of the trailer by hand in an effort to reach the smoldering rolls contained on the pallets. The cab received substantial damage and the majority of the load was lost. The driver was not injured. The southbound lanes of I-95 at the incident were closed for four hours and was down to one lane as personnel from Gerald's Wrecker Service cleaned up the site. Heavy equipment was brought in to clean up the burnt rolls which littered one travel lane and the right shoulder. Traffic was moving again without obstruction shortly after noon.
Engine 1. Engine 19, Tender, 1, Tender 13, Tender 26, Tender 27, Medic 1, Medic 13, Medic 26, Dive 1, Battalion 1, Car 112 and Car 118 responded. Battalion Chief Brent Dalton served as incident Commander.