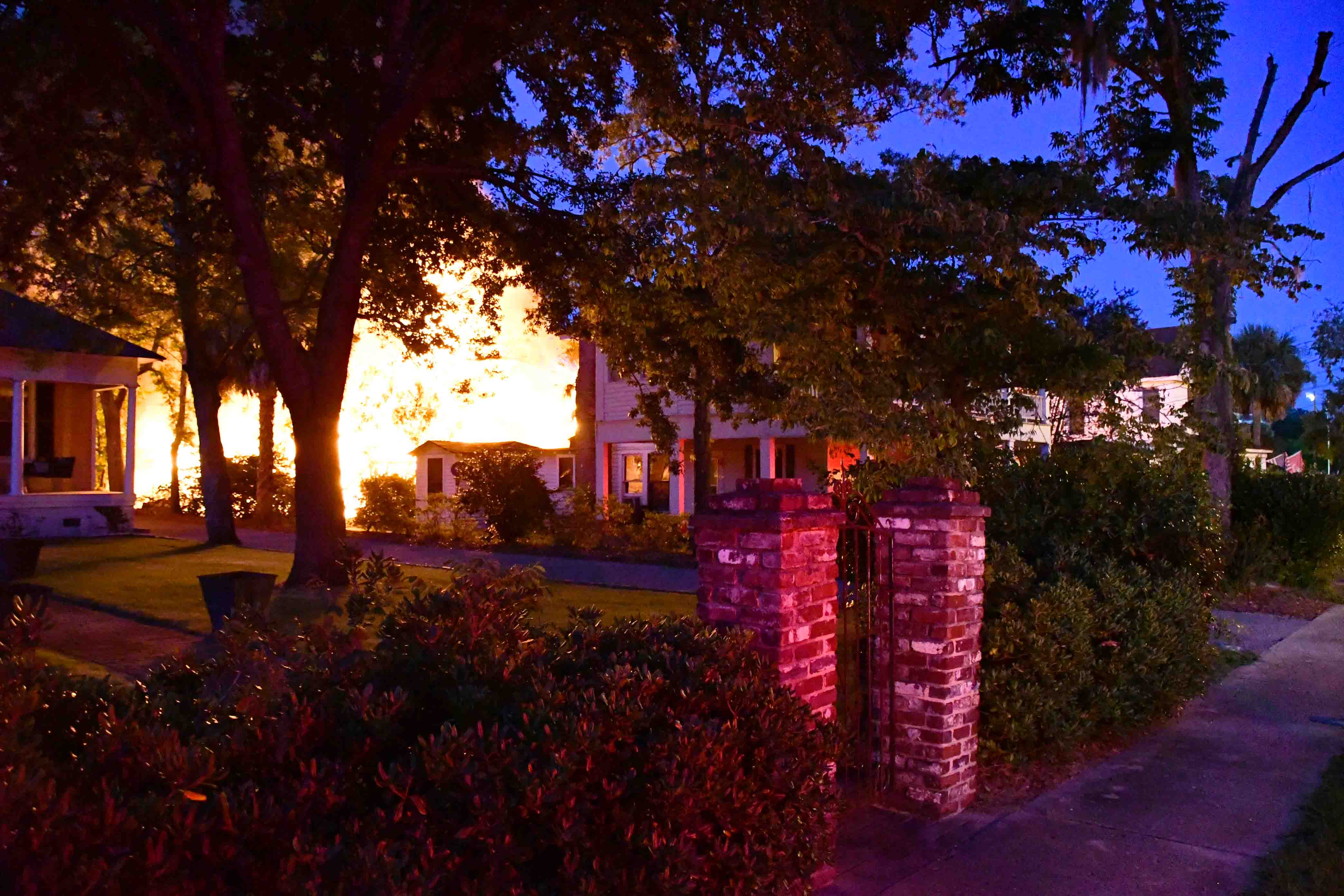 22/July/2020 – Mutual Aid Structure Fire – "B" Shift
Incident # 20-04994 – Fire-Rescue responded as mutual aid to the City of Walterboro for a structure fire at 709 Hampton Street Wednesday evening 22-July at 20:49. City Fire units arrived to find a two story garage apartment behind the residence fully involved as well as a separate two car garage also fully involved. Three vehicles inside the buildings were on fire, a large boat in the neighboring yard was ablaze and a small outbuilding on the property behind the structure was also on fire. Three adjacent homes on Hampton Street were already off gassing and a fourth structure on Charles Street, behind the fire building was also endangered. City Fire Units set up on Charles Street for better access to the fire building and requested mutual aid from County Fire-Rescue. City units deployed multiple handlines, deck guns and set up Ladder 1 on Charles Street. County Fire Units set up on Hampton Street and deployed multiple large diameter handlines to combat the fire and protect exposures. Two 2-1/2 handlines were used and two TFT Blitz fire ground monitors were set up in the back yard. Through the team effort the fire was quickly brought under control and no additional structures were lost. Two neighboring homes and an out building received heat damage. City Public Works brought a backhoe to the scene to assist with overhaul operations. The cause of the fire in under investigation.
Walterboro Engine 1, Engine 2, Engine 3 and Ladder 1 responded. County Engine 1, Engine 19, Engine 26, Engine 27, Tender 19, Medic 1, Medic 19, Medic 26, Battalion 1, Car 110, Car 116 and Car 118 responded. WFD Chief Paul Siegler served as Incident Commander.