Colleton County

Fire-Rescue

PUBLIC EDUCATION
---
Fire Marshal S. Michael Banks (sbanks@colletoncounty.org) - (843) 539-1960 extension 1320
---
Public Education
Colleton County Fire-Rescue has several fire and life safety educational programs that are designed to prevent injury or death as a result of fires and to reduce the risk of injuries through other hazards.
| | | | | | | | | | | | | | | | | | | | | | | | | |
| --- | --- | --- | --- | --- | --- | --- | --- | --- | --- | --- | --- | --- | --- | --- | --- | --- | --- | --- | --- | --- | --- | --- | --- | --- |
| | 2022 | 2021 | 2020 | 2019 | 2018 | 2017 | 2016 | 2015 | 2014 | 2013 | 2012 | 2011 | 2010 | 2009 | 2008 | 2007 | 2006 | 2005 | 2004 | 2003 | 2002 | 2001 | 2000 | 1999 |
| Fire Deaths | 3 | 4 | 3 | 0 | 4 | 1 | 1 | 0 | 1 | 1 | 0 | 1 | 1 | 1 | 0 | 1 | 0 | 0 | 1 | 1 | 1 | 2 | 1 | 2 |
| Fire Injuries | 11 | 6 | 5 | 3 | 5 | 3 | 8 | 7 | 4 | 12 | 7 | 17 | 11 | 16 | 4 | 9 | 8 | 10 | 16 | 8 | 4 | 11 | 16 | 10 |
Training

Colleton County Fire-Rescue fire and life safety educators are trained in teaching target specific classes and many hold certifications through the International Fire Service Accreditation Congress.

A video presentation has been created in order to provide our citizens with information on various fire and life safety hazards.

Colleton County Fire-Rescue has attempted to address the most hazardous areas of fire and life safety in this video. There are a myriad of topics covered in this video. The topics covered include:

∑ Introduction from the Fire-Rescue Chief Barry W. McRoy
∑ Kitchen Safety
∑ Space Heaters
∑ Fire Extinguishers
∑ Smoke Detectors
∑ Clothes Dryers
∑ Flammable Liquids
∑ Matches & Lighters
∑ Pet Safety
∑ Fireplace Safety
∑ First Aid for Burns

Click here to view Colleton County Fire-Rescue's Fire and Life Safety Video. This video is also available on DVD from Fire-Rescue Headquarters.

Equipment

Colleton County Fire-Rescue utilizes several different props to address different age levels of children in the area of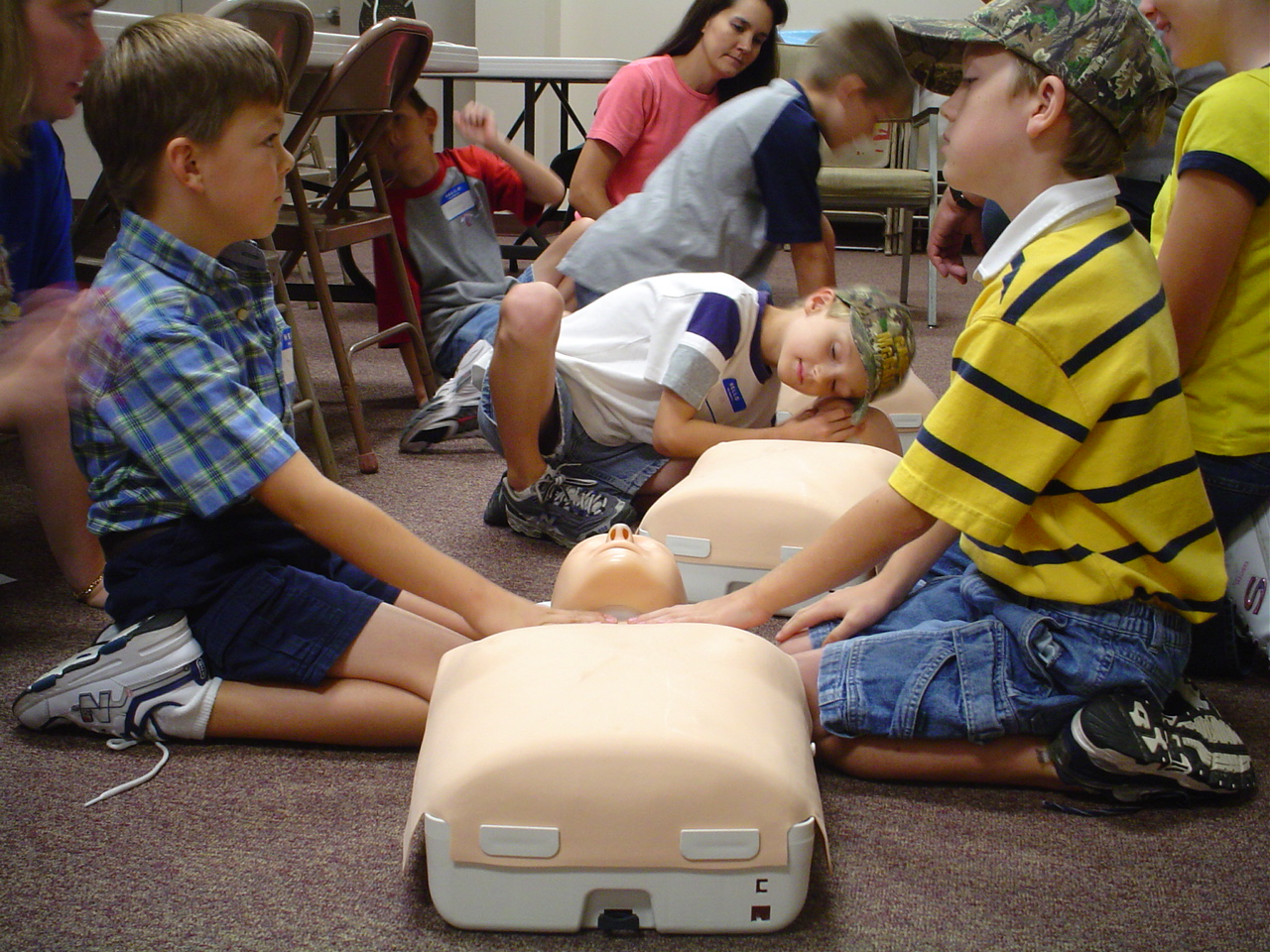 fire prevention. The elderly also receive training in the prevention of cooking fires in the home. The department also uses CPR mannequins and similar adjuncts for life safety education. CPR classes are taught, free of charge, to the general public as well as school age children. There have been several documented cases where the education the children have received has saved lives during emergencies.
Although the 9-1-1 system is managed by the Colleton County Sheriff's Office, Colleton County Fire-Rescue remains committed to educating the public in its proper use. Parents and guardians can also enforce proper use of 911 at home to children pre-school age and up.
Remind them that 911 is to be used only in an emergency. It is not a toy.

Unplug a telephone from the wall jack and have the child practice dialing the number 911.

Act out scenarios where Mommy or Daddy cannot come to the telephone but need help, have one parent act as the 911 operator.

Ask the following questions:

911, What is your emergency?

What is your name?

What is your address?

What is your telephone number?

Remind the child not to hang up the telephone until told to do so by the operator.
For adults, remember these basic points:
Try to remain as calm as possible. Take a deep breath and speak clearly.

Tell the operator the nature of your emergency: I NEED (Police, Fire Department, Ambulance).

If your house is on fire, LEAVE the house and call from a neighbor's house or mobile telephone.

Know where you are. If help is needed at another location, advise the operator.

Answer the questions the operator asks. They are necessary to determine the help you need.

Keep the answers short and to the point.

Follow all instructions given to you by the operator.

Stay on the line until the operator tells you to hang up.

Turn your outside lights on and if possible send someone out to direct the emergency personnel in.

Have the 911 number posted next to or on all of your telephones.

Display your house number. Make sure your house number is displayed so that emergency equipment can find your home. In an emergency, every second counts. Numbers should be displayed so that they do not blend into the house. Dark on light or light on dark works well. If you live off the roadway and/or have no mailbox, place a sign at the end of your driveway displaying your address information.

Know your nearest intersections. Know the nearest intersecting street to your address. This will help the operator provide directions to your location in cases of duplicate or similar sounding street names.

Post Important Info. Post a card with your address, family name and telephone number next to the telephone to assist children and visitors in providing that information in an emergency.
Do's

Don'ts

911 is to be used only in situations requiring immediate response such as:

a fire;

medical emergencies;

environmental hazards;

crimes in progress.

911 is not to be used for cases such as:

noise complaints;

barking dogs;

complaint follow-ups;

burning permits;

routine medical transports;

or other non-emergency calls.

Please use the non-emergency numbers provided below. You will receive the service you want and not hamper 911 operations for true emergencies.

Office

Non-emergency Telephone Number

Colleton County Fire-Rescue

(843) 539-1960

Colleton County Sheriff's Office

(843) 549-2211

South Carolina Highway Patrol

(843) 538-2111

Walterboro Police Department

(843) 549-1811

For ALL Emergencies, dial 911.
The Maltese Cross
The badge of a firefighter is the Maltese Cross. This Maltese Cross is a symbol of protection and a badge of honor. Its story is hundreds of years old.
| | |
| --- | --- |
| | When a courageous band of crusaders known as the Knights of St. John fought the Saracens for possession of the Holy Land, they encountered a new weapon unknown to European warriors. It brought excruciating pain and agonizing death upon the brave fighters for the cross. The Saracen's weapon was fire. |
As the crusaders advanced on the wall of the city, they were struck by glass bombs containing naphtha. When they became saturated with the highly flammable liquid, the Saracens hurled flaming torches into their midst. Hundreds of the Knights were burned alive; others risked their lives to save their brothers-in-arms from dying painful, fiery deaths.
Thus these men became our first "firemen" and the first of a long list of courageous firefighters. Their heroic efforts were recognized by fellow crusaders who awarded each with a badge of honor - a cross similar to the one firefighters wear today. These Knights of St. John lived for close to four centuries on an island in the Mediterranean Sea named Malta, thereby the cross came to be know as the Maltese Cross, the firefighter symbol for protection.
The Maltese Cross is a firefighter's badge of honor, strength and courage.
The Star of Life
Just as a pharmacist has the mortar and pestle and doctors have the caduceus, Emergency Medical Technicians have a symbol, its use is encouraged both by the American Medical Association and the Advisory Council within the Department of Health, Education and Welfare. The symbol applies to all emergency medical goods and services which are funded under the DOT/EMS program.
| | |
| --- | --- |
| Designed by Leo R. Schwartz, Chief of the EMS Branch, National Highway Traffic Safety Administration (NHTSA), the "Star of Life" was created after the American National Red Cross complained in 1973 that they objected to the common use of an Omaha orange cross on a square background of reflectorized white which clearly imitated the Red Cross symbol. NHTSA investigated and felt the complaint was justified. | |
The newly designed, six barred cross, was adapted from the Medical Identification Symbol of the American Medical Association and was registered as a certification mark on February 1, 1977 with the Commissioner of Patents and Trade-marks in the name of the National Highway Traffic Safety and Administration. The trademark will remain in effect for twenty years from this date.

Each of the bars of the blue "Star of Life" represents the six system function of the EMS, as illustrated below:

The snake and staff in the center of the symbol portray the staff Asclepius who, according to Greek mythology, was the son of Apollo (god of light, truth and prophecy). Supposedly Asclepius learned the art of healing from the centaur Cheron; but Zeus - king of the gods, was fearful that because of Asclepius knowledge, all men might be rendered immortal. Rather than have this occur, Zeus slew Asclepius with a thunderbolt. Later, Asclepius was worshipped as a god and people slept in his temples, as it was rumored that he effected cures of prescribed remedies to the sick during their dreams.

Asclepius was usually shown in a standing position, dressed in a long cloak, holding a staff with a serpent coiled around it. The staff has since come to represent medicine's only symbol. In the Caduceus, used by physicians and the Military Medical Corp., the staff is winged and has two serpents intertwined. Even though this does not hold any medical relevance in origin, it represents the magic wand of the Greek deity, Hermes, messenger of the gods.

The Bible, in Numbers 21:9, makes reference to a serpent on a staff: "And Moses made a bronze serpent and set it on the standard; and it came about, that if a serpent bit any man, when he looked to the bronze serpent, he lived. (NAS)

Each of the six "points" of the star represents an aspect of the EMS System.

They are:

1) Detection
2) Reporting
3) Response
4) On Scene Care
5) Care In Transit
6) Transfer to Definitive Care

The staff on the star represents Medicine and Healing
What you Should Know about Burglar Bars
Tragedies occur when children and adults become trapped inside their homes, unable to escape a fire because of burglar bars.
Bars, grilles or grates should meet the following requirements:
Must be able to be opened from the inside without the use of a key or any special knowledge or effort. A child should be able to open the bars and easily escape.

The recommended release mechanism for hinged burglar bars would be a single cylinder deadbolt lock with a thumb and forefinger turn lever on the cylinder or other quick release device.

If your burglar bars require a key to open, keep the key near the bars at all times, for easy access in case of fire. Review with your family where the key is kept and how to use it to open the burglar bars.

For security purposes, the deadbolt on a hinged burglar bar could be protected from outside intrusion by the use of expanded metal or a plate to prevent potential intruders from reaching the release lever.

DO NOT install burglar bars, grilles, grates or any device on windows used for escape routes that cannot easily be opened from the inside.

If burglar bars are installed, your home should have smoke detectors protecting each sleeping area or hallway. The signal from a smoke detector must be heard from every bedroom.
Before the Ambulance Arrives
After you have called 911, there are several things you can do until Firefighter/Paramedics arrive. These simple procedures will greatly aid the Emergency Responders and the patient they will treat.
If you determine that the patient is pulseless and not breathing, begin cardiopulmonary resuscitation (CPR), but only if you have been trained in this life saving technique.

Stay calm; do not get excited. This will reassure the patient that help is on the way.

Make the patient as comfortable as possible.

Gather all medication that the patient may be taking. This will help Firefighter/Paramedics better determine the medical history of the patient.

Move all furniture or obstacles out of the way so Firefighter/Paramedics have easy access to the patient. Make sure all pets are secure in another part of the house.

Remember the time, this is very important. When was the last time you talked to the patient? How long has this medical condition existed? How long has the person been unconscious?
Care of Wounds
In general, to care for wounds you should:
Expose the wound. Clothing over and around the open wound must be cut away. Avoid aggravating the patient's injuries. Do not try to remove clothing by pulling the items over the patient's head or limbs. Simply lift aside or cut the clothing away from the site of the injury.

Clear the wound surface. Remove foreign matter from the surface of the wound with a sterile gauze pad or clean towel. This method will reduce the chance of contamination from your fingers. Do not try to clean the wound or pick out any particles or debris. If bleeding from the wound is controlled, take care not to restart or increase the flow of blood.

Control the Bleeding. Start with direct pressure at the point of bleeding or with direct pressure and elevation. if the bleeding continues, try pressure point control. A tourniquet should be used as a last resort for life-threatening bleeding from a limb. Take note of what time you apply a tourniquet.

Prevent further contamination. Use a sterile dressing, clean cloth, or clean handkerchief to cover the wound. After the bleeding has been controlled, bandage the dressing in place.

Keep the patient lying still. Any patient activity increases circulation. Keep the patient lying down, using a blanket or other form of covering to provide for protection from the elements.
Burns
What can cause a burn?
Thermal agents (flames, hot liquids, the sun, steam, radiation)

Chemical agents (acids, fluids, other corrosives)

Electricity (becoming part of an electrical current while grounded)
What can you do?
Affect a rescue - Remove the person from the source of the potential injury. If the injury involves electricity, insure that the electricity is turned off or that the victim is not in contact with the electrical current. When dealing with chemical or thermal agents, remove the person carefully from the source of the injury and move you and them to a safe environment.
Stop the burning process - Remove the injury causing substance. If the clothing catches fire, STOP, DROP, and ROLL to smother the flames. DO NOT RUN!!! It will only increase the flames and extent of injury. Remove burned clothing and jewelry which can retain heat and intensify the injury. (SPECIAL NOTE: If the clothing sticks to the skin, leave it in place and cut or tear around it to remove the source of heat.)
Pour cool, clean water over the burned area for 10-15 minutes - Longer periods are recommended for chemical burns. DO NOT put ice on an injured area. This may cause greater injury. DO NOT USE OINTMENTS OR BUTTER, LARD, ETC. These products may cause deeper burning by containing heat and are a potential source of infection.
Very minor burn injuries - Can be treated with commercial antiseptic sprays and covered with a clean, dry dressing. In the event that an infection occurs...seek medical attention immediately.
More severe burn injuries - and those involving chemical and electricity should prompt an immediate response from the Fire-Rescue department - Call 911. More sophisticated medical care is mandatory for any type of severe burn injury.
After the Fire Information
Click here to visit the United States Fire Administration's website where you can obtain information on what to do after you have had a fire in your residence.
Pull to the Right Information
If you or someone you love is in need of emergency assistance, you want help to get there right away. Did you know that thereís one thing everyone can do to help the firefighters provide this emergency assistance as quickly as possible? Itís as simple as Moving to the Right for Sirens and Lights!
| | |
| --- | --- |
| | Every year in the U.S., there are almost 16,000 collisions involving fire department emergency vehicles while responding to or returning from incidents. These collisions result in over 1,000 firefighter injuries and almost fifty deaths. |
Many people panic or simply donít adhere to the rules of the road for approaching emergency vehicles. The law is very specific; drivers must yield the right-of-way to an emergency vehicle, and failure to do so can cause serious accidents or delays in ambulances, fire engines and fire trucks arriving at the scene of an emergency. Firefighters are careful to avoid vehicle collisions by driving slowly when traveling against traffic, or coming to a complete stop at intersections. However, the cooperation of ALL vehicles on the roadway is essential.
There are some simple rules to follow when youíre on the road and encounter an emergency vehicle:
DO:
Stay calm.

Pull to the right and come to a complete stop.

If youíre traveling on a high-speed road or if there is no room to stop, slow down as much as possible.

If you are in the left lane, pull over into the right lane as traffic in the lane to your right moves over.

If you cannot move to the right because of another vehicle or obstacle, just stop. Your action will let the driver of the emergency vehicle know what you are doing and allow the driver to anticipate where to drive.

When an emergency vehicle approaches you from behind while you are stopped at an intersection, stay where you are unless you can pull to the right.

On a 4-lane highway or street without barriers, both sides of traffic should pull to the right.

Be careful when driving by or around a motor vehicle accident or any situation where emergency vehicles are parked and the firefighters are working.

Drivers should stay at least 500 feet behind emergency vehicles.
DONíT:
Donít panic.

Donít play your radio so loudly that you are unable to hear sirens.

Donít stop in the middle lane when there is room to pull to the right.

Donít pull to the left in the center lane or left turn lane.

Donít race ahead to make the green light or turn before the emergency vehicle gets there.

Donít turn quickly to the left onto a street or driveway.

Donít drive through a red light or stop sign when an emergency vehicle approaches from behind.

If the emergency vehicle is traveling on the opposite direction of a divided highway or street, you do not need to pull over.

Donít disregard the presence of the emergency vehicle by continuing to drive.
Kitchen Fire Safety
The kitchen is one of the most dangerous rooms in the house; however, following these simple tips can help prevent fire related injuries in the kitchen.
Stay by the stove when the burner is on. A stove fire can erupt in seconds, so it is important that you are nearby to put out the flames. The most dangerous and flammable cooking ingredient is oil, so never leave hot oil unwatched. It can burst into flames within seconds.

Wear tight-fitting clothing while cooking. Oversized or long, draping clothes can easily brush against a hot burner and catch fire.

Aim pot handles towards the center and away from traffic. This fire safety tip will prevent oneís elbow from knocking against the handle and spilling food, or even worse, hot oil or fat onto you or the burner.
Clean the grease off the stove regularly. One major fire safety no-no is allowing grease to build up, because large amounts of grease can ignite. Try to wipe the stove top after every cooking session.
Heat oil up gradually. This fire safety measure will prevent hot oil from splattering onto your skin or in your eyes. Never pour oil into a hot pan, because it can burst into flames within seconds. It is safer to pour oil into the pan before you turn on the burner.
Place a rubber or non-slip mat on the floor. If your floor frequently gets wet from spilt liquids or oil, a rubber mat will keep your shoes from slipping on the liquid.
Extinguishing Stove Fires

If grease or oil in the pan ignites, smother the fire with a lid and turn off the stove. Never use water, which causes grease fires to spread.
Do not remove the lid until it cools!

Extinguishing Oven / Microwave Fires

Leave the oven or microwave door shut and turn off the heat. If the flames donít go out right away, leave immediately and telephone the fire department from a neighbor's house. Be sure to have your microwave or oven checked by a maintenance person before you use it again.

Last thoughts on Fire Safety in the Kitchen

Kitchen Fire Safety Video
Store flammable items far away from the stove. This includes: pot holders, dish rags, towels, curtains, and food packaging.

Never use the oven or stove range to heat your home. This is not only a fire hazard, but if you have a gas oven / stove, you are letting gas into the air.
Space Heater Safety
Using Space Heaters
P

lug Space Heaters directly into outlets (DO NOT use extension cords with space heaters)

Keep space heaters at least 3 feet from anything that will burn (couches, beds, drapes, etc.)

Insure your space heater has a tip over protection that turns the heater off in case it turns over

Do not use space heaters to dry clothes or linens (by hanging clothes or linens on the heater)
Click here to view a video from the Today Show and demonstrates how easily a space heater can start a fire and how quickly it can spread.
South Carolina Burned Children's Fund
| | |
| --- | --- |
| | MUSC Children's Hospital Burned Children's Fund is a continuation of a program founded in 1986 by South Carolina's firefighters and MUSC Children's Hospital to ease the recovery process for MUSC's pediatric burn patients and their families. Donations to this fund support South Carolina's only referral center for pediatric burns, MUSC Children's Hospital Pediatric Burn Center. |
| | |
| --- | --- |
| The Burned Children's Fund and the Pediatric Burn Center co-sponsor Camp 'Can' Do, a camp designed specially for burned children. The Burned Children's Fund also supports the FAN Club. This program matches firefighters with burned children to help them return to school as well as educate their classmates about the child's experience. Also accomplished is the creation of a hydrotherapy area in MUSC Children's Hospital, improving the necessary, but unpleasant dressing changes and treatments a burned child must endure. | |
---