Quicklinks
12/Aug/2022 - Structure Fire Mutual Aid - "B" Shift

At 06:29, Fire-Rescue responded as mutual aid to a structure fire at 52 Pocotaligo Pl, the Mount Pleasant Baptist Church, in Jasper County. Jasper County Fire-Rescue requested two Tenders from Colleton. Several other Fire Depts responded to assist as well, including the MCAS and Sheldon. The church suffered heavy damage. The cause of the fire is under investigation. Click here for additional information.
08/August/2022 - Multi-vehicle MVC - "A" Shift

A six vehicle MVC on I-95 near the 59 mile marker southbound sent five people to area hospitals and closed southbound traffic for two hours Monday morning 08-August at 06:11. The accident occurred just before sunrise in light fog. Witnesses reported a southbound car left the roadway, hit the cable barrier and returned to the roadway. The vehicle was reported to be disabled and stopped in the lane of traffic. This caused a chain reaction type accident. One vehicle was struck in the rear by a tractor trailer causing extensive damage to the car. Click here for additional information.

8/6/2022- We congratulate Firefighter-

Paramedic William Worrell on his promotion to Engineer-Paramedic. Worrell met the qualifications for Engineer in July.
Additionally we congratulate Lt. Michael Duffy on his promotion to Captain. We wish them both success in their new roles.
06/August/2022 - MVC w entrapment & Air Evac - "C" Shift

Two people were critically injured in a single vehicle MVC in the 14500 block of Bells Hwy (SC Hwy 64) west of Stephens Crossroads Saturday morning 06-August at 08:06. A west bound Toyota RAV4 left the roadway, entered the east bound ditch and struck a driveway culvert. The small car became airborne, struck a second driveway culvert and flipped over at least three times. The unrestrained driver and passenger were both ejected from the vehicle. The adult male patient was found in the ditch approximately 30 feet from the car. Click here for additional information.
31-July-2022 - Structure Fire - "C" Shift

Firefighters saved a home in the 12700 block of Mount Carmel Road Sunday afternoon 31-July at 13:43. Fire-Rescue was dispatched to the location when the homeowner discovered smoke coming from the roof. Engine 7, stationed in Smoaks, arrived minutes later to find light smoke coming from the doublewide mobile home. Firefighters deployed multiple handlines to the residence and pulled the ceiling in one room to reach the fire. Crews found electrical wiring in the attic space had burned and spread to nearby roof joists. Click here for additional information.
20/July/2022 - Storage Building Fire - "C" Shift

A 20x30 storage building was destroyed in an early morning fire on Marble Ln Wednesday 20-July at 00:34. Engine 19 arrived to find the wood frame building fully involved. It was located behind a mobile home. Crews deployed several hand lines to extinguish the fire. The entire building and the contents were destroyed. There was no damage to the mobile home. Fire units were on the scene for 2 hours. Click here for additional information.
30/July/2022 - Shooting Incident - "A" Shift

An adult male was shot several times at the Sure Shots Nightclub at 4198 Sniders Hwy Saturday morning 30-July. 9-1-1 was notified of the incident at 01:54, advising one person had been shot and another person was injured. Sheriff's Deputies arrived minutes later and secured the scene. Firefighter-Paramedics found a male patient in critical condition who suffered gunshot wounds inside the establishment and a female patient outside the building with a broken leg. Two Fire-Rescue ambulances were sent to the scene. Click here for additional information.
26/July/2022 - Head-on Collision - "A" Shift

Two pickup trucks collided head-on in the 200 block of Bama Rd Tuesday afternoon 26-July at 17:38. The female driver of a Dodge was transported to the Trauma Center at Trident Medical Center by Medic 9. The male driver of the Ford F-150 was transported to Colleton Medical Center by Medic 19. The rural dirt road was blocked for about an hour until the vehicles could be removed. The SC Hwy Patrol is investigating the accident. Click here for additional information.
Click here to access the archives

Looking for a Career?
We are hiring!
Join our Team!
Firefighter/Paramedic - $76,000 / year
Firefighter/EMT - $56,000 / year
Click
here
for more information.
---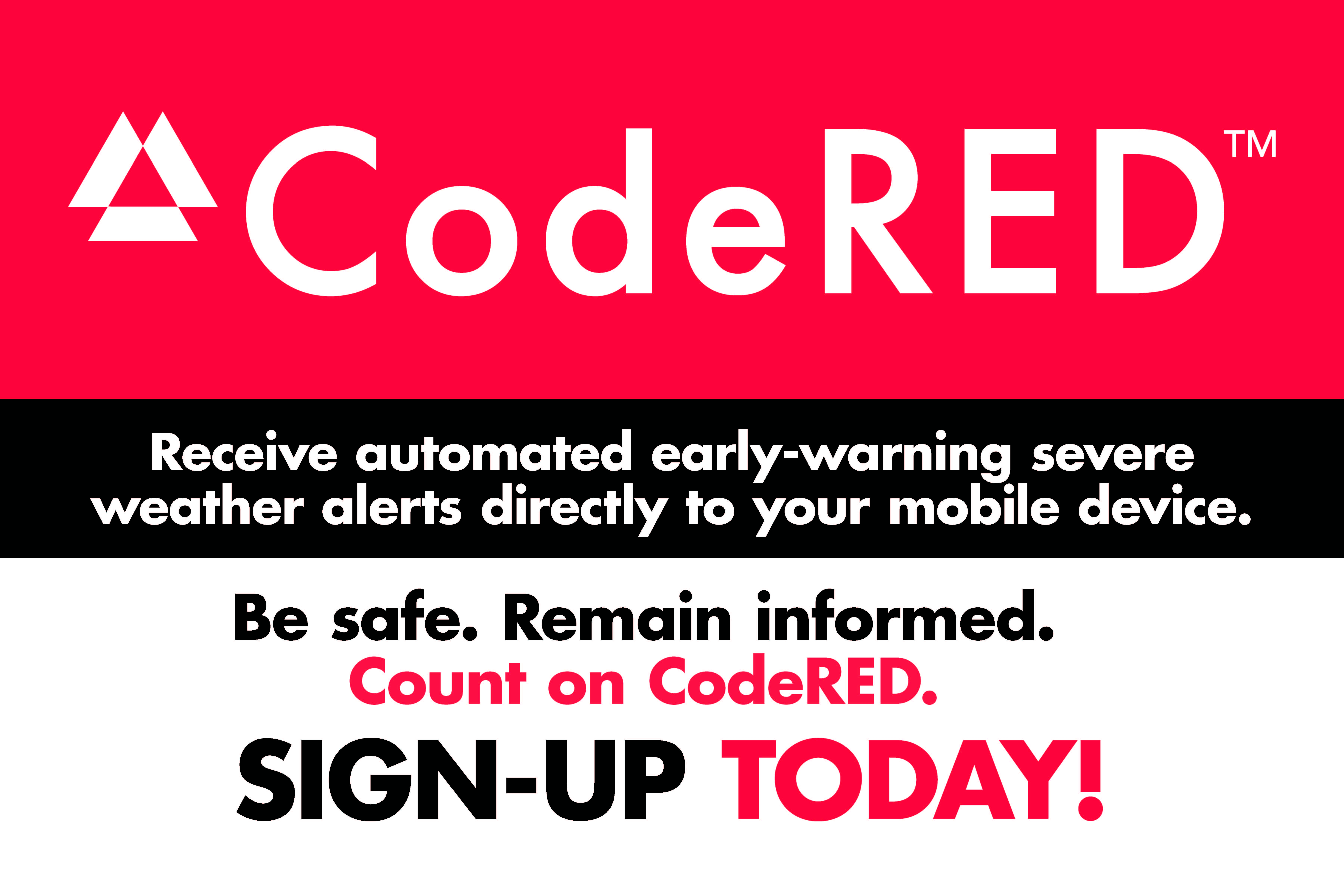 Click here to sign up
---
---
Site Search
---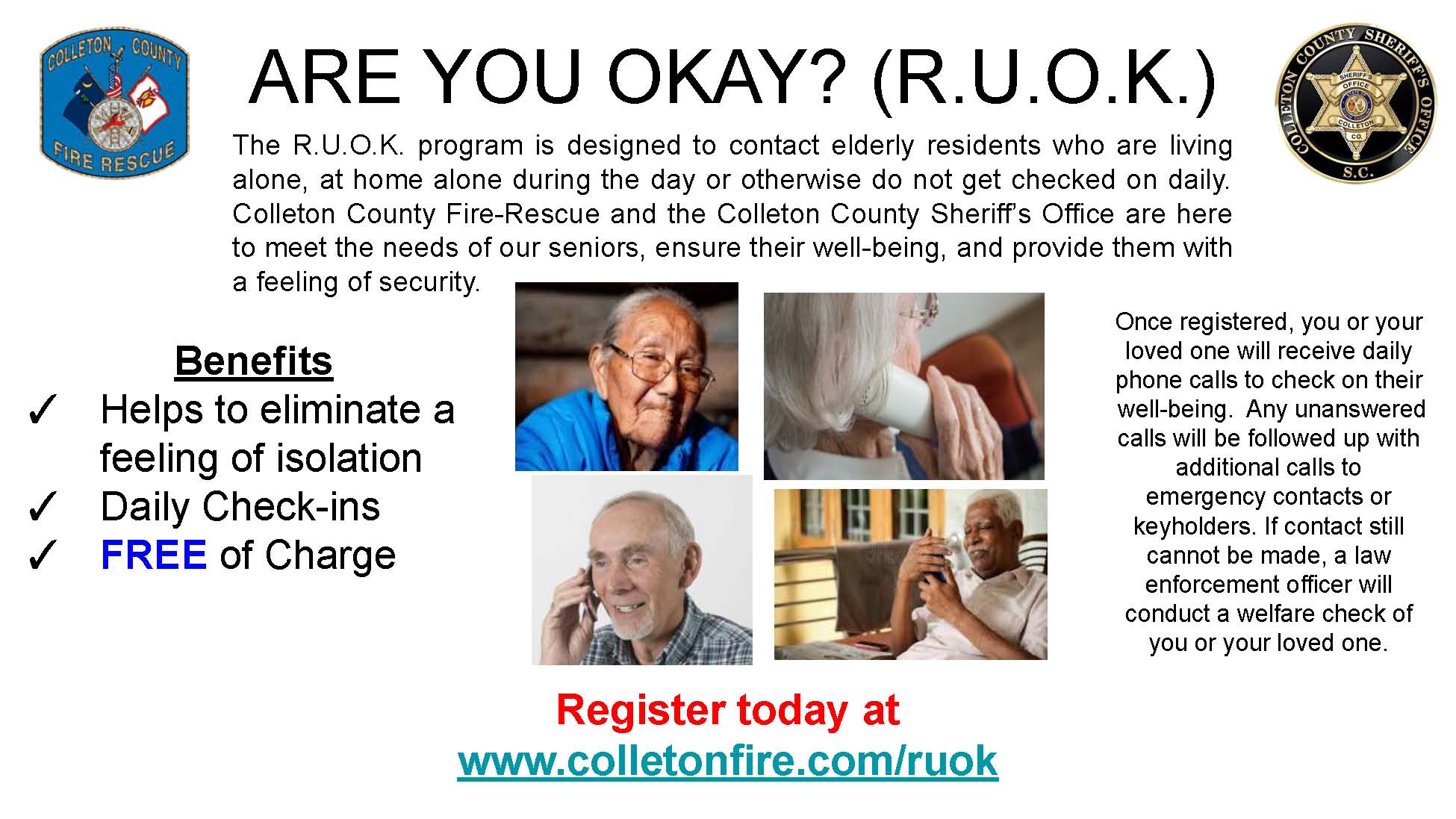 The RUOK Program is designed to contact Colleton elderly residents who are living alone, at home alone during the day or otherwise do not get checked on daily. Click here to register.
---
Upcoming Events