Quicklinks
We are hiring! Join our Team!

Colleton County Fire-Rescue will conduct Pre-Employment Testing on Thursday, March 24, 2022. Click here for more information.

Register for testing by emailing your resume and certificates to jobs@colletoncounty.org

25/January/2022 - MVC with Entrapment - "B" Shift

An adult male received multiple injuries in a single car MVC in the 300 block of Industrial Road Tuesday morning 25-January at 10:58. The westbound 2011 Toyota RAV4 left the roadway in a curve and struck a driveway culvert. The car became airborne, struck a tree and began to flip over. It then struck a set of power line guide wires, a chain link fence and flipped over a second time before coming to rest on its side in a second yard a couple feet from the house. The driver was trapped in the wreckage. Fire-Rescue units arrived a short time later and began treating the trapped driver. Click here for additional information.

20/January/2022 - Structure Fire - "C" Shift

At 15:17 Thursday 20-January, while returning to Station 19, Tender 19 observed flames and smoke coming from the roof of the former Dayco Plant located at 938 Thunderbolt Drive. They notified Dispatch and a structural assignment was dispatched to the location. Arriving units found flames shooting approximately ten feet high from a three foot vent pipe extending through the roof. Moderate winds were carrying black smoke around the area and could be seen 3 miles from the scene. As Firefighter-Paramedics entered the building, they encountered light smoke conditions inside. Click here for additional information.
19/January/2022 - MVC with Entrapment & Air Evac - "B" Shift

A 33 yr. old Rock Hill man was critically injured when his small pickup truck collided with an empty log truck at the intersection of Lowcountry Hwy. (US Hwy 21) and Black Creek Road, Wednesday morning 19-January at 09:25. The man was trapped in the wreckage of his heavily damaged pickup truck. The log truck driver was not injured. Firefighter-Paramedics treated the man at the scene, while other firefighters used Holmatro Rescue Tools to extricate the man. A medical helicopter was called to the site due to the extent of his injuries. Click here for additional information.
We offer condolences to Firefighter Elijah McTeer and his family for the passing of his mother, Mable McTeer who died Friday 14-January at Colleton Medical Center at the age of 91. Funeral services will be held Thursday 20-January at Walterboro Christian Center 320 Robertson Blvd., in Walterboro. Visitation will be held Wednesday afternoon at Koger's Mortuary at 508 South Jefferies Blvd. from 15:00 to 18:00.
https://www.kogersmortuarycares.com/obituary/MotherMable-McTeer
17/January/2022 - MVC with Air Evac - "C" Shift

Two Green Pond residents were injured, one critically, in a single vehicle MVC in the 12700 block of Green Pond Hwy (SC Hwy 303) just north of SpringHill Road, Monday afternoon 17-January at 13:01. The 2012 Nissan Altima was traveling northbound on Green Pond Hwy, when it crossed over into the southbound ditch. The car struck two trees and overturned. The unrestrained driver was partially ejected through the sunroof. Firefighter-Paramedics arrived and began treating the 19 year old. She suffered critical injuries and a head injury. A medical helicopter and a second Fire-Rescue ambulance were requested. Click here for more information.
12/January/2022 - Structure Fire - "A" Shift

At 22:50, Fire-Rescue was dispatched to a fire in a residence at 70 Blaine Court. On arrival Engine 18 found light smoke coming from a single wide mobile. The occupants advised they had returned home from shopping and found the residence filled with smoke. Firefighter-Paramedics found a plastic space heater had fallen off of the kitchen counter onto the stove and caught fire. The fire damaged the stove, hood and cabinets over the stove, but had burned itself out. Thick smoke had spread through the mobile home covering everything inside with black ash, however most personal items were salvageable. Click here for additional information.
12/January/2022 - Structure Fire - "A" shift

A fire in a vacant residence caused substantial damage to the building Wednesday evening 12-January. At 19:50, 9-1-1 was notified of fire coming from the home at 448 Deloach Ave. Engine 1 arrived a short time later to find fire coming from the front windows and door and rolling out from under the porch roof. Engine 1 used the deck gun to knock down the bulk of the flames as Firefighter-Paramedics deployed two handlines and entered the building. They were able to quickly gain control of the flames and save the building. The home has been vacant, but the owner ran off some squatters this past weekend. Click here for more information.
12/January/2022 - Fatal Structure Fire - "A" Shift

A 71 year old Green Pond man perished in a mid-day fire at his home in the 1300 block of Magwood-Bryant Road, Wednesday 12-January at 12:15. Neighbors advised they heard an explosion and saw smoke and flames coming from the home. When they arrived at the residence they found the occupant on fire in the front yard. They used buckets of water to extinguish the fire on the man. Engine 6 arrived several minutes later to find the single wide mobile home approximately 75% involved. The roof over the center had already collapsed. Click here for additional information.
Click here to access the archives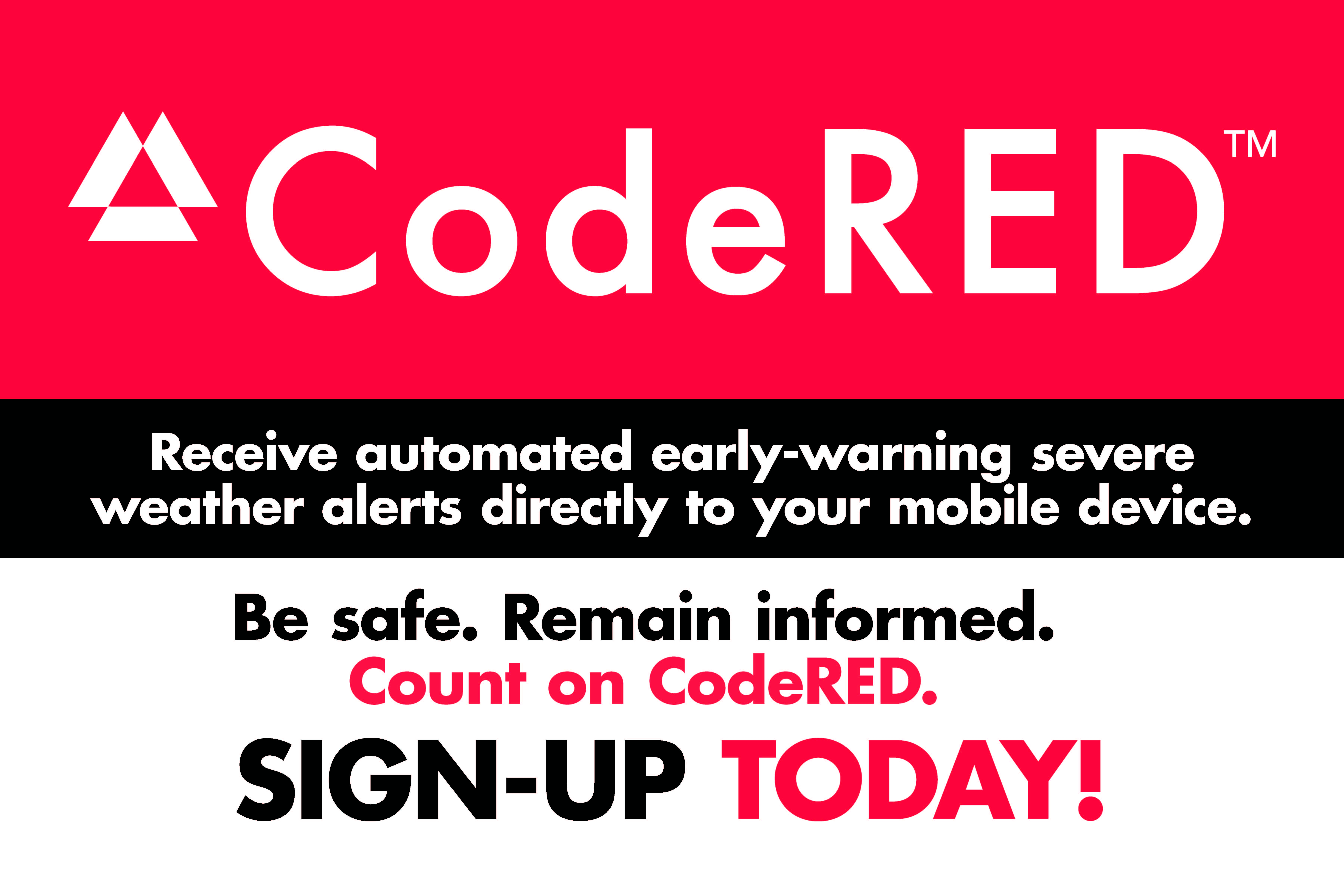 Click here to sign up

---
---
Site Search
---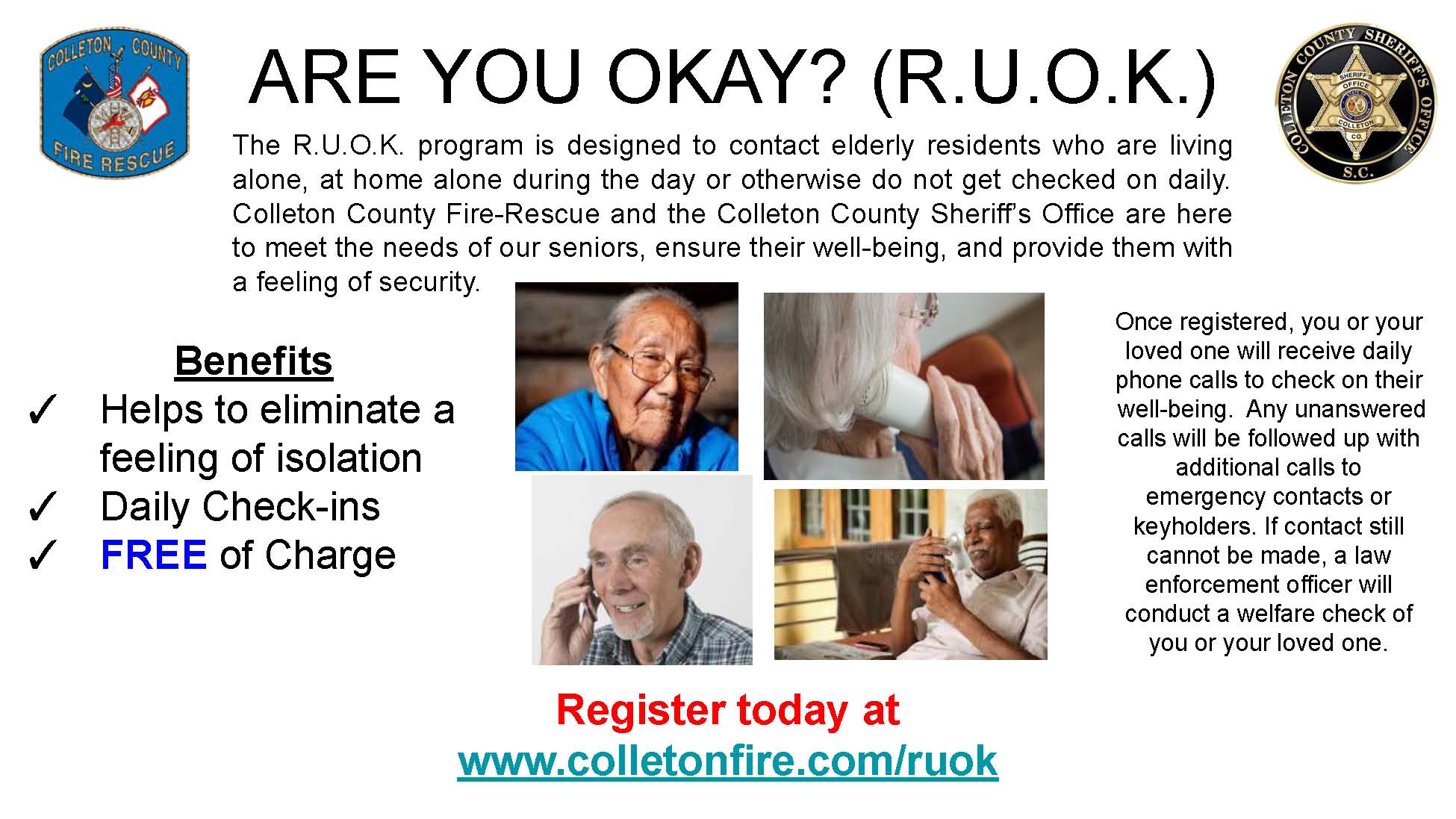 The RUOK Program is designed to contact Colleton elderly residents who are living alone, at home alone during the day or otherwise do not get checked on daily. Click here to register.
---
Upcoming Events